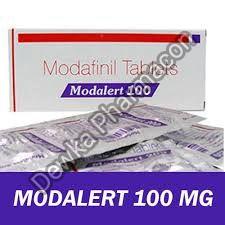 Tablets is a pharmaceutical oral dosage form or solid unit dosage form of medicament or medicament with suitable excipients. It is made up of a mixture of active substances and excipients, normally in powder form, pressed or compacted from a powder into a solid dose.
A Modalert 100 tablet is used in the treatment of excessive daytime sleepiness. It improves wakefulness and aids you to stay awake and reduces the tendency to fall asleep during the day, thus restoring the normal sleep cycle. In this article, you will come to know more about the Modalert tablet so keep reading.
Modalert Tablets Dosage Usage
Modalert Tablets may be taken with or without having food. It is advised to take the medicine at a fixed time each day to maintain a consistent level of blood. If you miss any doses, take it as shortly as you remember. Do not neglect any doses and must complete the full course of treatment even if you feel better.
This medication must not be ceased suddenly as it may worsen your symptoms.
Uses of Modalert Tablet
Narcolepsy
Modalert tablets promote wakefulness in patients with excessive daytime sleepiness caused by narcolepsy, a condition in which they are irregularities in the sleep-wake cycle
Obstructive sleep apnea/ Hypopnea Syndrome
This medicine is aided for patients with sleeping disorders like Obstructive Sleep Apnea, a condition where the breathing stops for a short period of time or breathing is shallow, leading to a lack of sleep at night and daylight sleepiness.
Shift work sleep disorder
Modalert Tablet is used to reduce excessive sleepiness in those who don't have a sleeping schedule due to the changes in the shifts of work.
Benefits of Modalert Tablets
Modalert Tablet is taken to cure Narcolepsy. Narcolepsy is a sleep disorder that is caused due to excessive daytime drowsiness. The affected person may experience excessive sleepiness, sleep paralysis, hallucinations and in some cases episodes of cataplexy(partial or total loss of total muscle control).
Modalert Tablets stimulate the brain and make you fully awake. It also relieves these abnormal symptoms and controls the sleep cycle. This restores normal sleeping habits and upgrades your quality of life. You will feel more energetic and will be able to carry out better in your daily activities.
Side Effects of this Tablet
Some common side effects of these tablets include headache, nausea, nervousness, anxiety and insomnia (difficulty in sleeping). A person may also have diarrhoea, indigestion, back pain and a runny nose. These side effects are temporary and usually, get cured at their own time. This medicine causes dizziness and sleepiness and requires mental focus until a person knows how this medicine can affect them.
One must always remember the medicines should only be used when advised by a doctor as it is not a replacement for a good sleep routine. Before taking the medicine you must inform the doctor that you don't have any problem with kidney, heart or liver or have a history of seizures.
Choose to deal with the best wholesale Modalert tablet suppliers in Nagpur and get fine quality pharmaceutical tablets. You can get the list of top-rated Modalert tablet suppliers in Nagpur based on the reviews and ratings given by the public.